Shortly after Hanry Sandford died in 1733 James Sandford made a will, which survives among the Pakenham-Mahon Papers: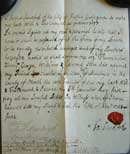 I James Sandford of the City of dublin Gentleman do make my last Will & Testament as follows viz:
In Primis I give all my real & personal Estate that I have or shall be possessed of at the Time of my Death to be equally distributed amongst such of my Brothers hereafter nam'd as shall survive me viz'. Theophilus, Henry, George, William, Edward Item I do appoint my Friend Mr Charles Hamilton Esq' of Dunboyn in the County of Meath the sole executor of this my last Will & Testament & I desire my sd. Executor may first pay all my Lawfull Debts In Witness whereoff I have hereunto sette my Hand & Seal this fifth of Nov. 1734 -foure
Seal- Man's head in Octagon
Signed - Ja: Sandford
Witness -
Richd. Burleigh
John Howson
the above Decared & published to be the last will & Testament of the Sd. Jas. Sandford this 2nd. day of june 1735 in the presence of - Geo: Graffe - Will: Dawson
James wrote another will in 1747 after his brother Col Theophilus Sandford had been killed at Carthegena in 1747.
This later will (see transcription) leaves his estate to only 3 brothers. Theophilus is dead and Henry has his father's Castlerea estate. James is described as of Sligoe, so he was probably by 1747 appointed as the Collector at Sligo, a post he would retain until his death in 1756.
There is no mention of any wife in 1747, so it is possible he was not then married.
In the Irish Genealogical Office now housed in the Manuscripts Dept of the National Library of Ireland in Dublin, I looked up all the 11 Sandford entries in the index to Beetham's Will Abstacts. The Abstracts are in some 24 hanwritten volumes and consist of short summaries of the genealogical information from each will he studied.
In Volume 9 page 15 I found the Will of Theobald Dillon, of Mullen, Co. Roscommon made 12 Sept 1777 and proved 20 Jan 1778. His sister Mary Dillon wife of Mr Sandford had three children Thomas, John and Elizabeth.
My excitement was raised by noting that this abstract records a John Sandford - if Mary Dillon had maried James Sandford then her son John, if born in 1752, could be John Sandford of Tuam, my 4 greats grandfather.
I found no other information in the Library, except that on reading up on Dillon familes I found a lot of names and places mentioned. Later searching on the internet I discovered that the the Dillons, quite rare in England ( I can only think of Dillons the Bookshop), are very common indeed in Ireland There were several Theobald Dillons.
It seemed this discovery was not going to lead very far. Then I had a breakthrough on the OS of Ireland Map (Discovery Series No 39) which I had bought in Ireland I discovered a place called Mullen just 6 miles North of Castlerea House on the road near French Park.
So if Mary Dillon associated with a family living only 6 miles from Catlerea married a Mr Sandford, is it not likley that she married James Sandford. There is no other Sandford in Castlerea family who she could have married. There were noy many other Sandord families then in Ireland. A Kilkenny family being he most prominent other landed gentry family.
If this deduction is true then it seems that her second so with James Sandford must have have been the John Sandford of Tuam who became sovereign of tuam (ie town mayor) and was my 4 greats grandfather.
But more of that as I complete this page in the coming weeks.
Michael Sandford