Index page Introduction John Sandford Beech Sandford William Sandford John Beech Sandford
William Sandford, Chancellor of Lismore
I imagine William (1815 - 1882) was well educated by his schoolmaster father. He must have shown academic promise, and when he was nearly 19 he was sent to Trinity College Dublin. He is recorded as entering on 9 June 1834 . He did not take is BA until 8 February 1842, which does seem a long period, but possibly his residence was not continuous. I speculate that he could have also been spent time away from TCD, maybe teaching with his father in Tuam or elsewhere. His degree parchment, slightly yellowed, feels as crisp as if it had been made yesterday: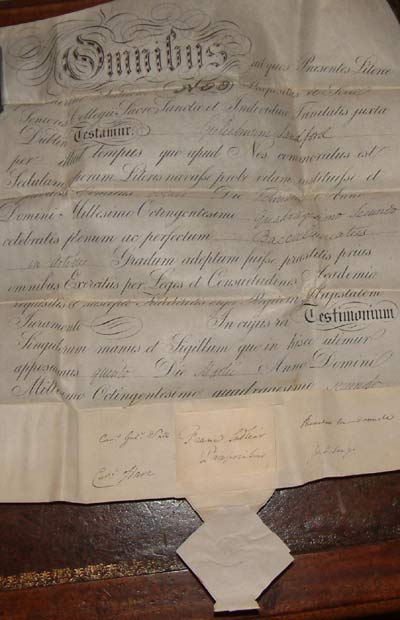 In 1842 he also took a divinity test . I have the TCD certificate issued to William for passing this test. Although the year on the document is clear, the day and month are harder to read. They appear to say Sixteen Jul 1942. With this qualification and he was then equipped for a career in the church.
He was made a deacon by the Bishop of Limerick on 14 August 1842. One month later on 18 September, he was ordained a priest by the Bishop of Killaloe, and became a curate at Rathkeale in county Limerick. William gave his residence as Rathkeale, just ten days later on 28 Sept 1842, when he married Miss Susan Lyster of Abbey Leix in Queen's county. Susan Lyster's family provides another great story of the Irish dispora.
The marriage was conducted by the Rev. William Wingfield, vicar of Abbey Leix. The witnesses were Charles Robinson a clerk of Galway, who was perhaps one of William's friends from Tuam, and John Kimmins of Maryboro. Susan's grandfather was a John Kimmins of Maryborough so this was doubtless a relation of hers.
With his marriage and various church appointments William, my great great grandfather, seems to have left Tuam for good, serving parishes in Limerick, Tipperary and Waterford. He raised a large family which dispersed across Ireland and England. I have made a page on his eldest son John Beech Sandford, whose descendants we are not in contact with at present. For details of William and Susan's other descendants you will have to contact me. I will close with these portraits of William and Susan which hang upon my wall.
Michael Sandford - 26 May 2007
Index page Introduction John Sandford Beech Sandford William Sandford John Beech Sandford